Le Roi du Smoked Meat,
is located at 6705 St-Hubert, corner St-Zotique in Montreal. It's a family restaurant with a history of more than 70 years that is well recognized for it's smoked meat. It's numerous years of service and it's customer loyalty give this place a reputation of many memories for some people.

Opened in 1954, Le Roi du Smoked Meat is renowned all over Montreal. Time stopped between 1960 and 1980. The music, ambiance and nostalgia of these years reminds us of the good old days. Many customers travel from afar for our smoked meat. Our enriched menu offers vast choices to our clientele. Try our delicious pizzas, souvlakis, spaghetti, club sandwich, BBQ chicken, poutine and much more. Savour our dishes at our restaurant, take them home or have them delivered.

Moreover, our HD televisions enable you to watch the news or any sports events.

It will be our pleasure to see you and serve you!


---
Spécial viande fumée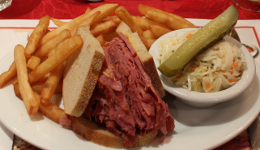 19.95
Servi avec salade de chou, patates frites et cornichon
---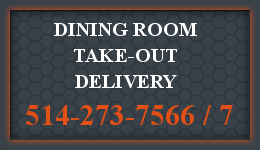 ---
À la ROI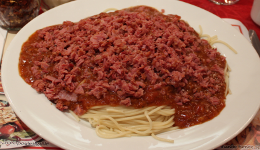 18.95
Spaghetti ou rigatoni (viande fumée)
---
Prices, Menu Items and Promotions are subject to change without notice.
Promotions cannot be combined with other offers. Pictures are for illustration purposes only.